God at work in South Sudan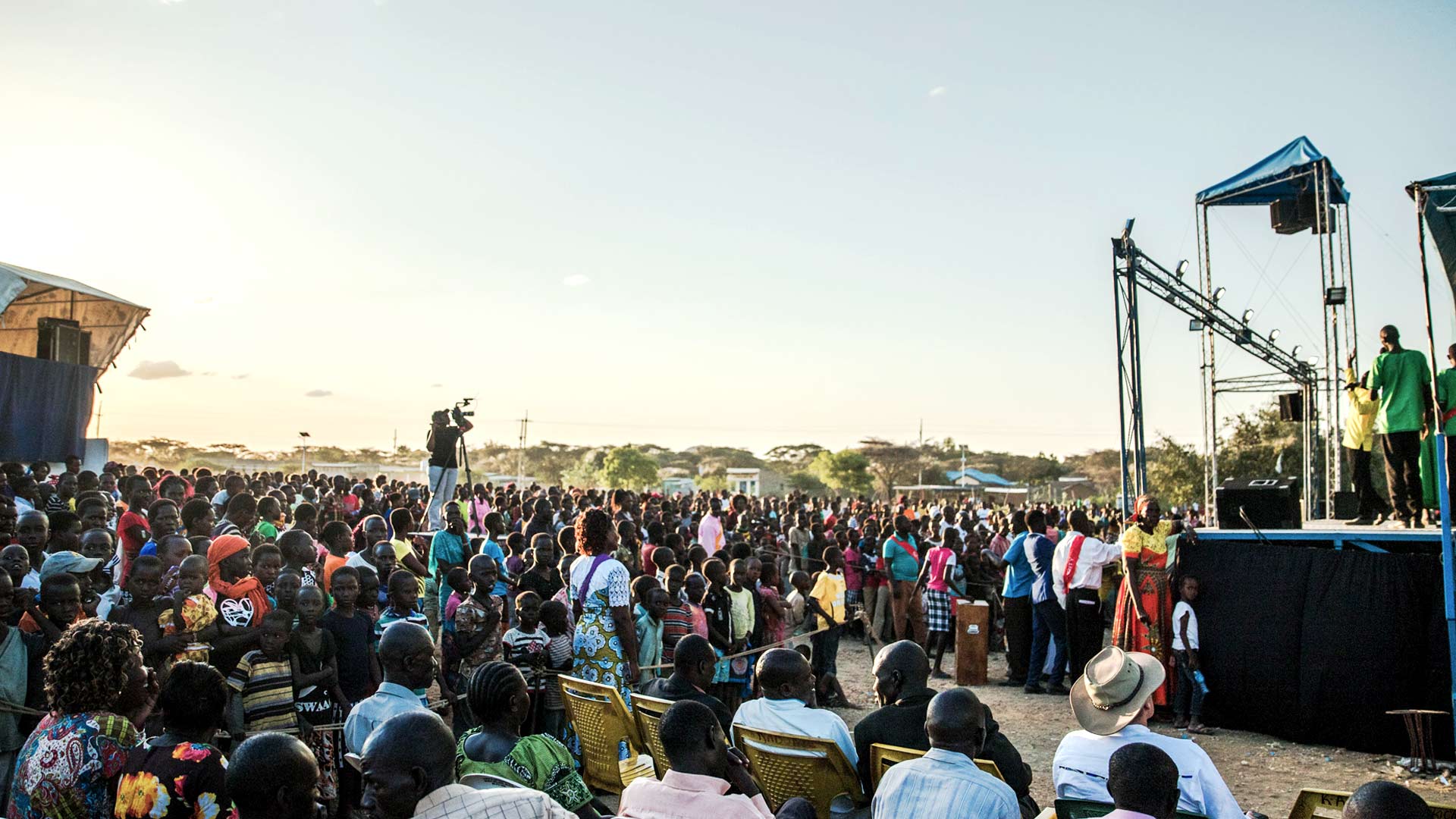 His mercy is new day after day
Greetings from Kenya! We have safely arrived and are reflecting on an incredible time in Lokichar, Turkana, in the Northwestern part of the country. We've once again witnessed amazing things happening with God's guidance and intervention. We deeply appreciate your prayers and support.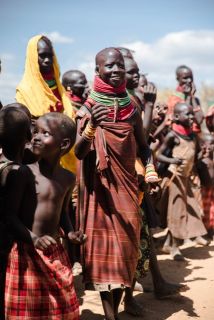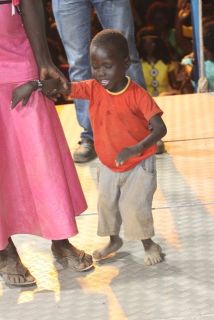 The boy was born without apparent issues, but later, his mother noticed problems with his legs, which left him unable to stand due to extreme weakness. For four years, he resorted to sliding on the floor, using his hands and feet for mobility. However, on the final day of the crusade, a miraculous healing took place, and the boy regained the ability to stand and walk. His mother, Ann, couldn't contain her tears of joy and gratitude to God. Eric not only stood but could also walk hand in hand with assistance. He started stomping his feet, hopping, and even dancing before the entire audience. It was an emotional moment that moved everyone to tears of joy, especially his mother. All glory to God!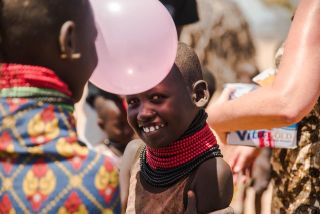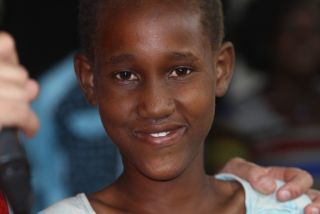 For a harrowing four years, Violine endured excruciating throat pain. She woke up one day to find her throat constricted, as if an invisible force were squeezing it tightly. Her suffering was so severe that her mother feared for her life. They sought help from various hospitals, but none could identify any underlying issue. Medical examinations yielded no abnormal findings.
Desperate for relief, they turned to pastors for prayers, but even these attempts brought Violine unbearable pain whenever they prayed for her. Frustrated and exhausted, they resorted to seeking help from traditional healers, consulting five different wizards, but these efforts also proved futile. They were even swindled out of a significant amount of money through deceitful practices.
In their desperation, they attended our meetings in Lokichar, where they engaged in prayers. Miraculously, God touched Violine. When Peter encouraged people to attempt things they couldn't do before, Violine tried swallowing, and to her amazement, not only did the pain vanish, but the choking sensation disappeared as well. Overwhelmed with relief, she praised God for her healing.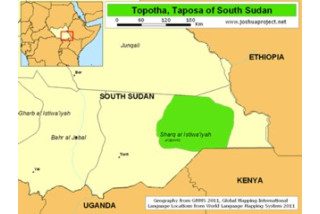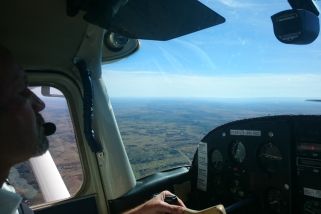 You and Josh will certainly be in our prayers. Your journey to Lokichoggio and South Sudan is an important undertaking, and we ask for God's guidance, protection, and provision throughout your travels. May your visit to the new work in Naliel bring blessings and fruitful progress, especially with the drilling of the water well and the groundbreaking for the mission station. Your commitment to reaching unreached communities with the Gospel is truly commendable, and we pray for the success of your mission and the safety of all involved.
Introducing our Plans for Naliel, Toposa Land in South Sudan:
A few years ago, during one of our evangelistic campaigns in South Sudan, I had the privilege of flying over the vast region inhabited by the Toposa people. As far as my eyes could see, I witnessed thousands of small villages where the Gospel had never been preached. Little did I know that God would lead us to initiate a work that would reach these many Toposa villages, a people who live in a manner similar to the Turkana tribe 50 years ago. They share the same language as the Kenyan Turkanas, but many among them have never heard of Jesus, not even once.
Destination:
Our work to establish a church planting and evangelism ministry is centered in Naliel, a location approximately 700 km from the city of Eldoret. The climate here is hot and extremely dusty, akin to the semi-desert conditions found in Turkana. Naliel village falls within East County, Namorunyang State, Naliel Payam. While the Joshua Project may claim that this tribe is Christian and reached, the reality on the ground tells a different story. Rev. Mark Keter, one of our missionaries, worked in Lotimor on the Ethiopian border for 12 years, traveling back and forth on this route. He attests that you can cover over 250 km on this road without encountering a single church. Naliel, situated approximately in the middle of this vast area, is strategically positioned. Imagine driving 250 km without finding a church. Something must be done!
Our Plans and Strategies:
We have broken down our work into several phases:
Phase 1 – Engagement with Local People (Approximately 2 weeks)
Our team of 4 Kenyan missionaries was sent to this region to collect data and determine where they would establish their base. This phase took place from February to March.
Phase 2 – Extended Stay in Naliel (3 months)
This intensive phase involves building relationships with the Toposa tribal people, learning the Toposa language, and acclimating to the region. It spans from April to June.
Phase 3 – Preparation for Construction (July to September)
We are preparing truckloads of building materials for Naliel, constructing mission houses, and getting ready for the arrival of missionary families. This phase is currently in progress.
Phase 4 – Ongoing Development (October to December)
We continue working on the mission base, settle in with the families, and strategize on how and where to plant churches. We are also exploring the possibility of a film ministry using the JESUS film. This phase extends from October to December.
Phase 5 – Sustained Efforts and Expansion
The work continues at a high level, and we anticipate receiving missionary candidates from Turkana, Kenya, for church planting efforts.
Our Goal:
Our overarching goal is to plant 100 churches within five years. This includes learning the Toposa language, establishing a training center for indigenous people, and systematically opening churches. Given that Toposa children lack access to schools in the region, we also intend to establish schools to enable their education. Each missionary will have their family with them in the field, and most of these candidates already possess mission experience and a passion for people. We aim to keep supporting churches informed and engaged in field missions, mobilize others for mission work, and adopt a holistic approach that addresses both physical and spiritual needs for church development.
Current Status/Today:
After only three months in Naliel, we have already established 17 hearth communities. These communities gather to sing newly learned songs, share their experiences from watching the Jesus film, and select two representatives from each community for discipleship. Currently, Mark Kater is on-site, overseeing the construction of property fencing, a well, and toilets in an open area. The next step involves building small 6 x 6-meter dwellings, for which we are actively seeking financial support. The entire project is estimated to cost around 30,000 Euros. We are looking for donors to partner with us in this endeavor and support our evangelism efforts. Please join us in prayer for additional financial resources, both small and large, to strengthen the advancement of God's Kingdom.