There is always work to be done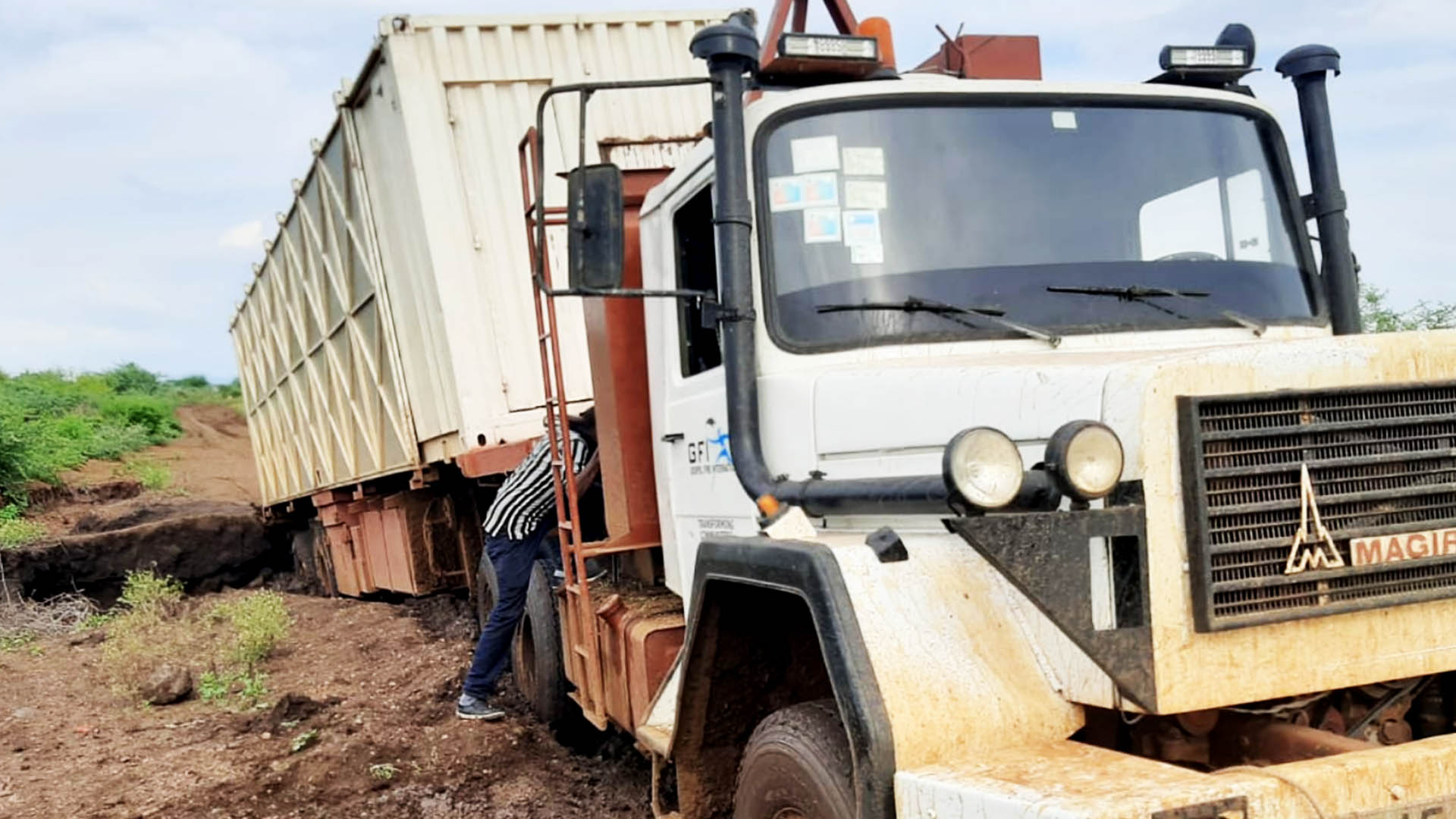 Work carries on during the pandemic
On Monday, our journey to South Sudan commenced, heading toward our station in Naliel. There was eager anticipation among the community as they awaited our team's arrival.
Upon receiving the green light from our friends at the border, indicating that our team could enter Sudan with all the necessary construction materials, we sprung into action. We efficiently loaded everything onto the truck and the Unimog with the trailer.
However, as we began stacking all the materials, it became evident that the normal truck wouldn't suffice. So, we adjusted our plan, deciding to transport everything with our larger truck since hosting a major crusade was currently not possible. We had to offload the crusade equipment to make room for the building materials, food, used clothing, a motorcycle, and various other items. The combined weight of these materials totals about 25 tons, including steel beams, roofing materials, and an additional 300 bags of cement. On Monday, our big truck, accompanied by our Unimog and trailer, will depart with a team of nine individuals. It's almost reminiscent of a small-scale exodus from Egypt.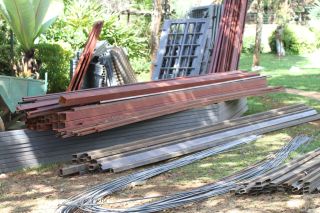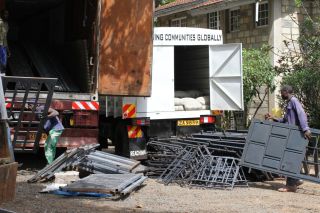 Another remarkable answered prayer was the arrival of a young couple, Simon and Carolin Haberstroh, hailing from Kenya's coastal region. Simon possesses expertise in operating trucks and Unimogs, enabling him to actively participate in this outreach. Additionally, he is a skilled carpenter. It's yet another example of how God has meticulously orchestrated every detail.
The entirety of the materials is designated for the construction of three buildings. One of these structures is intended for use as a discipleship school, while another serves as a spacious hall or room suitable for school activities, church gatherings, and meetings. There's also a small guesthouse with versatile potential uses.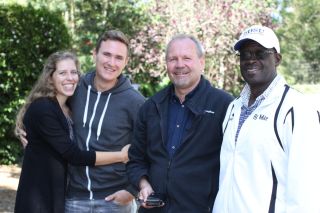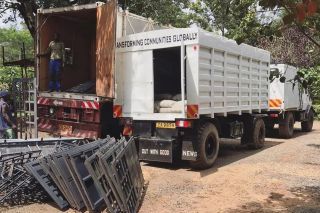 These buildings will be a great help for all the work in South Sudan. Our centre is developing so well.
South Sudan
Our Kenyan missionaries have dedicated three years to living among the Toposa tribe in Naliel. Their proximity to other unreached tribes has fueled their commitment to introducing as many people as possible to the transformative power of Jesus through the concept of Discipleship Making Movements (DMM). The Word of God remains incredibly influential.
In Naliel, they are presently establishing facilities to enhance discipleship training effectiveness. Furthermore, they have initiated a primary school and are offering discipleship training on efficient vegetable cultivation techniques.
Simultaneously, our team has expanded, sending two more individuals to a neighboring, entirely unreached tribe. Here, too, small prayer groups are gradually forming. We are overjoyed to witness the spread of God's Word to these remote tribes, where individuals are discovering hope and peace in Him. Over the past few months, we have baptized over 1,570 men and women, a testament to God's incredible work in action.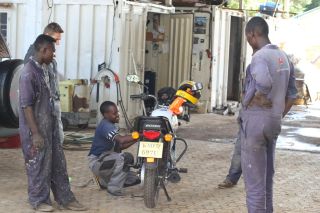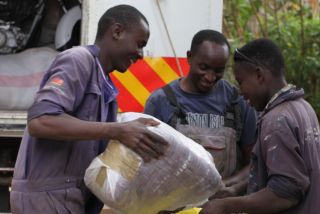 Trailer
During the COVID-19 pandemic period, there were significant developments on our site as well. We had the opportunity to acquire an older trailer for our Unimog from a scrapyard, where it had been sitting in a field for years. Jackson, our workshop manager, stumbled upon this gem while searching for improved springs for our truck. He was thrilled, and we were able to purchase the trailer for 4,000 Euros. Over the past month, our team has diligently worked on the trailer, conducting welding, repairing the pneumatic braking system, and giving it a fresh coat of paint. Now, it stands ready and fully equipped for use in Sudan, capable of carrying a load of 7.5 tonnes. In Sudan, the trailer will serve the purpose of fetching river sand from the riverbed for the production of cement blocks used in building construction.
However, the trailer's versatility extends beyond this specific use. It has been prepared in such a way that it can be converted into a small outdoor collection unit. By removing the side walls on one side, it can be transformed into an open-air stage. Given the uncertainty surrounding the ongoing COVID-19 situation and when we will be able to host larger events, it's likely that smaller, short events will become feasible sooner. In such cases, this trailer will prove to be an ideal asset, suitable for small roadshows and various other purposes.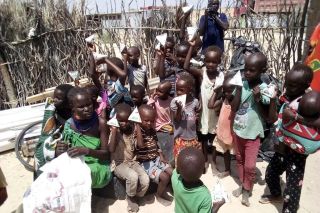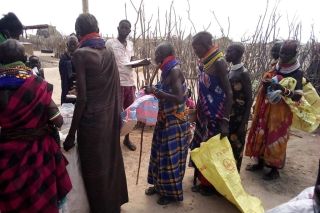 Turkana Pastors:
We express our gratitude to the Lord and to your generous support, which allowed us to once again assist approximately 60 Turkana pastors and their families in their time of need. The past few months have presented numerous challenges, especially for pastors in remote areas who have been unable to conduct services. Many spiritual leaders across Africa live on the brink of subsistence, and this situation has brought about significant hardship. It appears that some of the measures taken may not have been necessary for those who were not seriously ill. Nonetheless, we remain committed to lending a helping hand wherever possible, as it has always been our mission.
Workshop:Our car workshop remained bustling with activity, as we frequently undertook repairs for vehicles belonging to "Samaritan's Purse," Franklin Graham's ministry, and several other missionaries. Our ability to provide assistance in this area has been greatly appreciated.
We eagerly anticipate the installation of the lifting platforms generously donated from Germany. Car repairs are challenging when everything must be done on the ground. We are hopeful that Thomas from Zwickau and Uwe from Heilbronn will arrive in August to set up the platforms. We have learned that Europeans can now travel to Kenya without quarantine requirements, but whether they can return to Germany from Kenya without restrictions remains uncertain.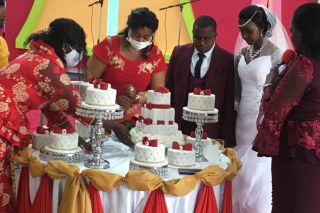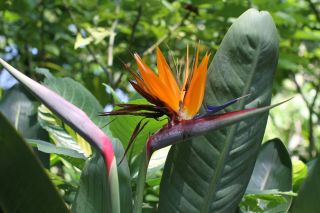 Wedding:
Despite the challenges posed by the ongoing pandemic, we were fortunate to receive an invitation to a wedding. This gathering was a significant highlight for all of us, as we've been missing the opportunity to come together with friends and enjoy fellowship. It was heartwarming to reconnect with some of our friends at the wedding. The couple had secured a special permit, allowing them to celebrate their wedding with a limited number of guests.
Work Visa:
Jessica and Josh, along with their children, are still in England. They are scheduled to fly to Germany at the end of this month, and from there, we hope they will be able to join us in Kenya in August. We have received a wonderful answer to our prayers: Jessica has been granted a three-year work permit to stay here in Kenya! We are now eagerly awaiting news about Josh's work permit. Everyone is in good health, and the twins have reached the six-month mark. Their wish is to return to Kenya soon.
There are two urgent pending projects that require immediate attention:
1. Truck: New Front Springs
The truck's front springs have become worn out due to the harsh road conditions. To ensure the vehicle's safety and functionality, we need to replace these springs. The estimated cost for this essential repair is 500 Euros.
2. Small Employee House in the Workshop
The current employee house on the site is facing a critical issue with its roof. The existing roof, which contains deteriorating asbestos sheets, is in dire need of replacement. We plan to not only replace the roof but also raise it slightly, creating a small second floor that can serve as an archive for all our old files. This renovation and expansion project is estimated to cost approximately 10,000 Euros.
Your support for these urgent projects would be greatly appreciated as we strive to maintain the safety and functionality of our equipment and improve our facilities for more efficient operations.